Vector Fury
A downloadable game for Windows
This game was made for a personal week-long game jam. No further development is planned.
Vector Fury is a simple arcade action flying game. You fly a small VTOL fighter armed with a cannon and a selection of 3 different secondary weapons. Take out land targets on islands, and ships with destructible turrets to complete a short 6 mission campaign!
The structure of the game is loosely based on Wings of Fury, an old side-scrolling WWII airplane game.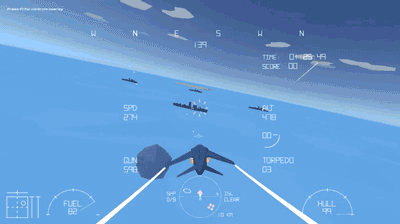 Features
Short 6 mission campaign
Fly a fighter that can take off and land vertically
Variety of ground and sea targets
Land on your home carrier to rearm, refuel, and repair
Smooth and responsive physics
Gamepad support for both game and menus
Controls
This game is designed to played with a gamepad. Basic keyboard controls are provided as a back up, but are not recommended. Joysticks are partially supported. If using a joystick, it's recommended to use it in combination with the keyboard like it's 1993.
| | | | |
| --- | --- | --- | --- |
| Control | Keyboard | Gamepad | Joystick |
| Pitch/Roll | Arrow keys | Left Thumbstick | Stick X/Y |
| Yaw | A/D | Left/Right Triggers | |
| Throttle | W/S | Left/Right Bumpers | |
| VTOL Nozzle | Q/E | D-Pad Left/Right | |
| Gun | Left Control | A | Trigger |
| Weapon | Spacebar | B | |
| Rotate Camera | Numpad 8/2/4/6 | Right Thumbstick | |
| Reset Camera | Numpad 5 | Right Thumbstick Press | |
Gameplay
Flight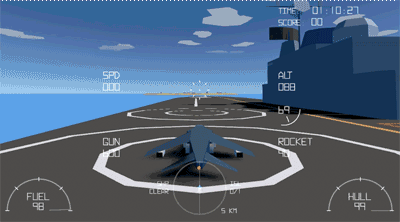 The physics for the game are simple and responsive, but have some simulator like depth to them.
G-Limits: The plane can only pull so many Gs. This translates to slower turn rates at higher speeds. Keeping the plane between roughly 300-400 knots will maximize your turn rates.

Fuel: As the plane flies around, it consumes fuel. Fuel is displayed on the HUD as a percentage filled. If the fuel runs out, the engines shut off and you'll have to abort the mission. Fuel consumption is proportional to throttle, so you can save fuel by flying at lower throttle settings.
VTOL: By lowering the nozzles, the plane can hover in mid air. When pushed all the way to 100 degrees, this actually points them slightly forwards, allowing you to slow down or even fly backwards to a limited extent. If attacking an undefended area, you can slow to a hover and gun everything down.
Weapons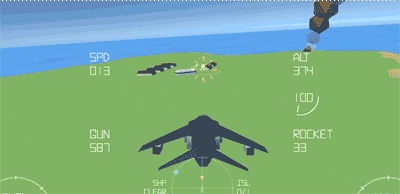 The game features 3 different weapons in addition to a cannon which is always equipped. All weapons have limited ammunition.
Cannon x600: A high velocity gun. This precise and reliable weapon is always available and with enough ammo can destroy even the heaviest armored ships.
Rockets x40: Direct fire explosive weapon with a small blast radius. Deals double damage on direct impacts.
Bombs x10: Free fall unguided explosive with high damage and a large blast radius. Deals double damage on direct impacts.
Torpedoes x3: Extremely powerful anti-ship weapon. Must be dropped into water so that it can "swim" towards its target. Deals minimal damage if dropped onto targets from above.
Enemies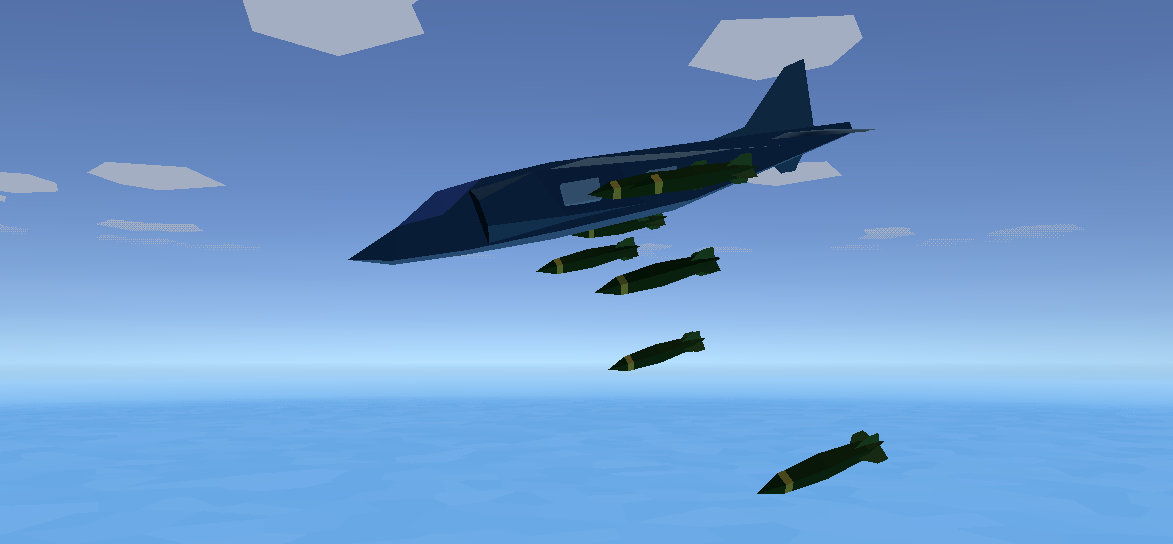 A variety of ground and sea targets appear during the game. Here's a brief rundown of each:
Ground vehicles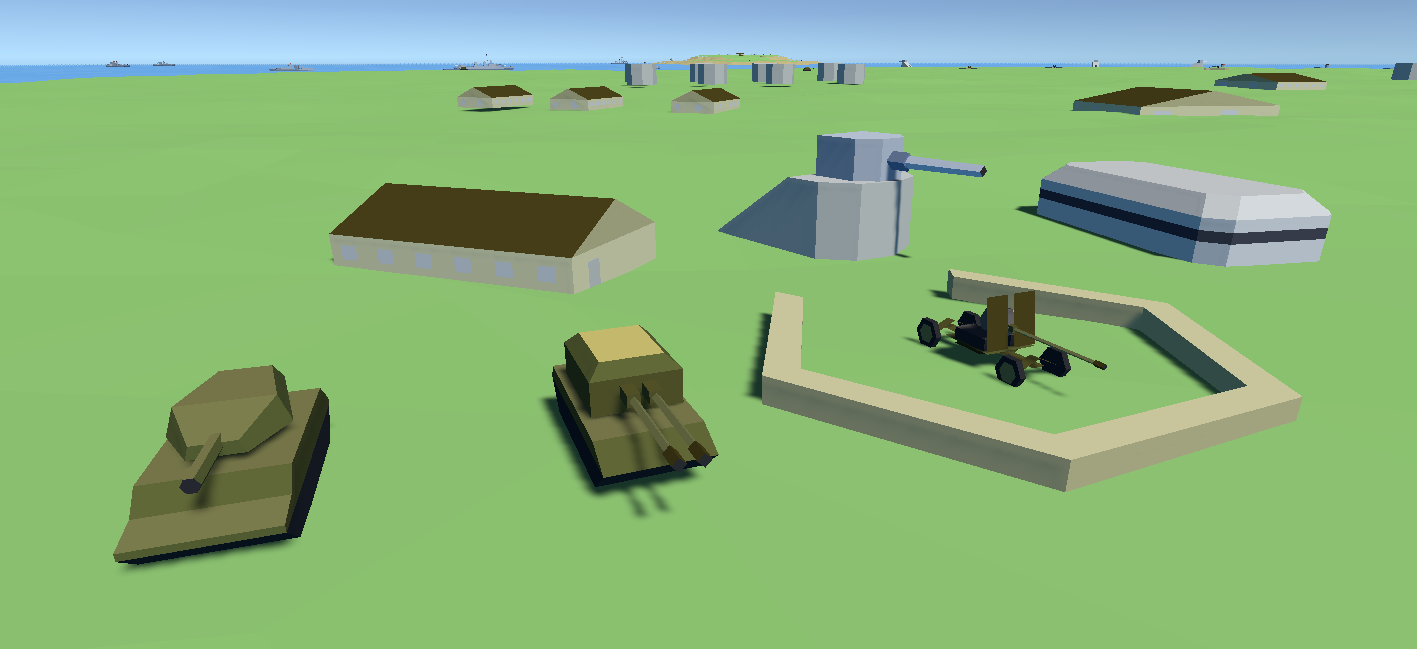 Light Tank: Armored vehicle with a short range gun. It's not accurate, but if you get too close you might eat a 150mm shell.
Fixed AAA: Light anti-aircraft gun. Decently accurate, but very fragile. Like all AAA, accuracy decreases with range, so as long as you don't get too close they can be easily dispatched.
Mobile AAA: Similar to its fixed version, but with more armor, dual barrels, and slightly more accurate.
Coastal Gun: Naval cannon on a fixed emplacement. Ineffective as an anti-air gun.
Ships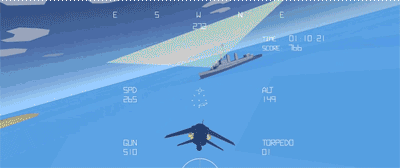 Ships have several features to make them unique from their land-based counterparts.
First, ships have armor which makes them resistant to splash damage from explosive weapons. To maximize damage, you'll need to hit them directly with a bomb, rocket, or torpedo.
Second, ships have large turrets that can be independently destroyed. Taking out the turrets can make approaching and destroying a ship much safer. You'll also be rewarded the full point value of a turret if you destroy it individually.
Corvette: A relatively small and lightly armed ship with only a 4 inch naval cannon. This cannon is accurate, even at range, but its shells travel very slowly, which allows you to evade.
Corvette AA: Corvette with an anti-air flak cannon installed. Flak cannons fire explosive shells that can damage you even if they miss. These turrets are also very fragile, making them very susceptible to bomb and rocket attacks.
Destroyer: A large ship with 4 5 inch naval cannons. These guns are accurate, have a very long range, and do tremendous damage if they hit you. However, like its smaller counterpart, they are slow and easy to evade as long as you keep moving.
Heavy Destroyer: A destroyer with 2 rapid fire flak cannons. The flak is extremely deadly if you stray too close, so it's best to take these out from a distance with torpedoes.
Designer's Notes
Vector Fury was put together in a week. I wanted to take a break from Tiny Combat Arena, and realized that a short and simple game would be a great way to test many of the ideas that had been floating around in my head lately. Many great features of Tiny Combat have come from these little one-off projects, such as the data-driven nature derived from Tiny X-Wing.
Like those projects, much of the code in the game is experimental. I've learned so much about how game design should work, to the point where I'm almost convinced that I've been building games backwards this whole time. Rather than building from the bottom up, creating cool little game mechanics and then hoping a game can be built out of it at the last moment, instead this game was built with the full game loop in place from the very first day.
Building a game into a framework, rather than trying to somehow form a framework around an amorphous mass of mechanics, really does seem like the way to go. This game uses so many new (for me) programming concepts, Unity features, and architectural decisions, to incredible success. This game will likely influence everything I work on going forwards.
Change log
1.0.6 - Jan 13 2021
Mission 1 briefing clarified by explicitly explaining island destruction
Changed resupply message when near a carrier to be more generic
Fixed secondary weapons not working after switching planes mid-mission
1.0.4 - Jan 05 2021
Increased Harrier yaw ability when hovering
Flight input blocked while weapon select screen is open
Greatly reduced joystick deadzones
Joystick can be used to select options in UI
Fixed joystick trigger not firing gun
Bomb uses large water explosion on impacting water
Fuel warning shows at 20% fuel (up from 15%)
1.0.3 - Jan 05 2021
Ability to rotate camera using right thumbstick and numpad arrows
Center camera by pressing right thumbstick or numpad 5
Pilot stats shouldn't be wiped in future updates (reputation will be reset with this update, sorry!)
Second carrier in mission 4 appears on minimap
Second carrier in mission 4 shows resupply text when landed on it
Harrier sits flat on ground when landed
Fixed scale of Light Tank (was slightly too large)
Added a custom icon for the game
1.0.1 - Jan 04 2021
Added missions 5 and 6
Torpedo ammo count increased (2 -> 3)
Mission 3 has two groups of corvettes
Known Issues
No sound: Didn't have time 🙁
Smacking into the carrier at a prodigious speed can get you stuck in it